Local distribution network of Wesserling
Publié le 21 octobre 2021
Local distribution network consists of reducing one's purchasing scope to favor a single intermediary. It is therefore a question of purchasing directly from the producer.
Today, local consumption is increasingly appealing to consumers for its many benefits. Choosing to buy local and seasonal fruits and vegetables, helps reduce pollution and transport waste, and thus be more environmentally friendly. Eating fresh, seasonal produce is also much better for our health. Finally, consuming local allows products to be traced and to better know their origin, while supporting the local economy.
Still in an environmental approach, the Wesserling Park is proud to welcome many companies, associations and craftsmen, most of which favor a local distribution network.
Visiting us, you will have the opportunity for example not only to buy vegetables and jams, but also beer or even fabric! Discover our partners.
---
Wesserling Gardens: from vegetable garden to consumer
Since 2000, the Association des Jardins de Wesserling has set up an aesthetic vegetable garden, in order to highlight the Wesserling Park, while being environmentally friendly and heeding the local history of the site. As a back-to-work program, the association also has the mission of providing a "stepping stone" job for currently 19 people, in the fields of gardening, market gardening and snacks.The vegetable gardens have expanded since February 1, 2021, with a vegetable plot extension across the road in permaculture and has obtained the organic label. The plot that is part of the Festival des Jardins Métissés (Mixed Gardens Festival) is awaiting organic labeling. The «Valeurs Parc» brand is also in the process of being obtained, which attests to the commitment to local roots, the human and social dimension and the preservation of heritage.
The Wesserling vegetable gardens are packed with a selection of diverse vegetables, berries and herbs. Apart from their decorative side in the vegetable garden, they are destined to end up on the plate! When we ask the producers what the short circuit represents for them, the answer is clear and precise: "from field to plate!".
After harvest, the vegetables become succulent salads and soups to be enjoyed as snacks on site or to take away.
To be in line with the local distribution network, the association favors local suppliers and producers for their snacks: cold cuts, cheese, ice cream, beer, etc.
To describe what the offer of the weekly market is, a mailing is sent to the members every Monday morning with the list of vegetables on sale; the information is also relayed on their Facebook page.
The fruits are also processed into derived products. Jam and jelly (available in 13 flavors), fruit paste are sold as well as syrup (8 flavors) from the Jardins de Wesserling. The association makes baskets filled with their own products as Christmas gifts for Municipalities and Works Councils.
You can find all fresh and derived products at the shed «Cabanon des Jardins de Wesserling» (within the grounds of the Park), in the shops of the Wesserling Park, at the Saveurs et Couleurs store, at the CabriOlait goat farm, as well as at the local restaurants.
The Wesserling Gardens sales shed (cabanon) is open (fall hours) Monday and Wednesday all day (10 a.m. to 5 p.m.), as well as Tuesday, Thursday and Friday afternoons (1 p.m. to 5 p.m.) and on the weekends(10 a.m.-6 p.m.).
---
Cabrio: buy beer directly from the brewery
Since 2012, the Alsatian Cabrio brewery has brewed craft beers, unfiltered and unpasteurized. Located in the former Royal Textile Manufactory in Wesserling, the brewery offers 7 permanent beers for sale as well as 3 short-lived beers per year, for every taste.
For its manager, the notion of local distribution network is vibrant since he buys quality raw materials from local suppliers. It is also important to him to offer his products directly to the brewery, for offering a better shopping experience and for being close to his customers.
Except for the brewery, Cabrio beers are sold in supermarkets in Haut-Rhin, and can be enjoyed in your favorite bars, restaurants and inns.
Brasserie Cabrio
4 rue des Fabriques – 68470 FELLERING, FRANCE
+33 (0)6 59 91 88 68 | brasseriecabrio@gmail.com | https://www.brasseriecabrio.fr/
---
Colorathur: fashioned and printed in Alsace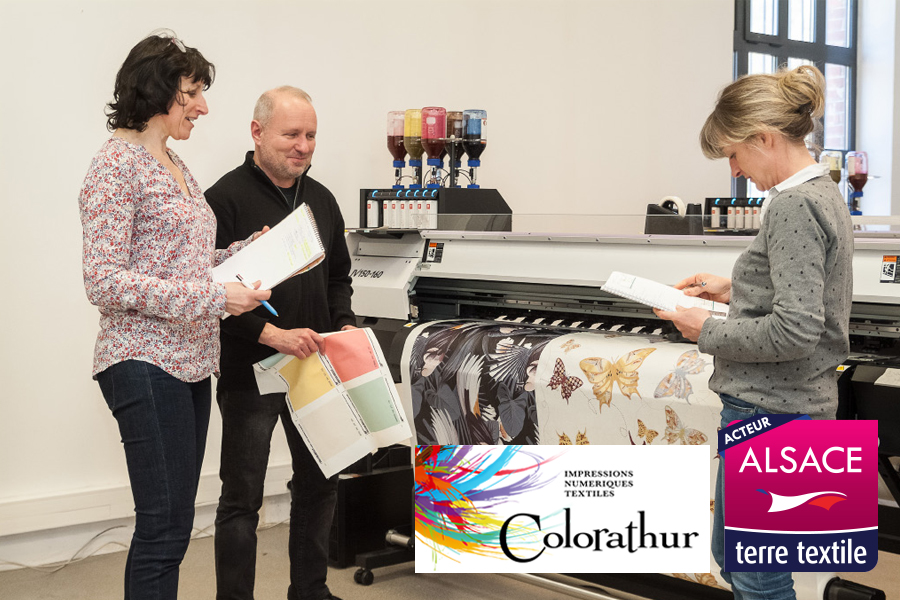 Founded in 2016, the human-sized company Colorathur specializes in digital textile printing, exclusively in B to B. The 3 partners, armed with their skills and experience in the field, wish to enhance and perpetuate the textile know-how of the South Alsace region.
They offer various printing services to their professional customers (designers, decorators, textile stores, etc.).
Indeed, thanks to the sublimation technique, Colorathur can print in small and medium quantities your visuals on advertising objects, textile and decorative items, on collection microfibers but also on fabric printing by the meter.
Whether it is to convey an advertising message or for decoration, furnishings, Colorathur provides customization and custom printing.
From high-tech microfiber material to velvet, including canvas, the company guarantees 100% French printing and tailoring, and even labelized «Alsace Terre Textile»!
Their fabric supplier is in the Vosges and they work in partnership with several local businesses. You can find their creations at the Mulhouse Zoo, the Museum of Printing on Cloth, the Cité du Train, the Hansi store, the Mulhouse Tourist Office, and many more…
---
Saveurs et Couleurs, farm products at your fingertips
Farm products Store since June 2005, Saveurs et Couleurs de la Montagne brings together a dozen farmers from the Valley. In addition to their main activity as farm producers, they are involved in the sale of their processed products at the store, located in the Wesserling Park.
The purchase of farm and local products is increasingly in demand but not always easy to access. Saveurs et Couleurs addresses this problem by offering the inhabitants of the Valley all the everyday essentials in one place!
Farmers have also chosen proximity to their customers, in order to create a link and best meet their expectations. Farms also help maintaining the countryside and mountains landscapes.
You can find on the stalls a wide range of local and seasonal products, including: dairy products, meat and fish, fresh fruits and vegetables, wines and beers, salty and sweet groceries, as well as care products and cosmetics. Most are labeled Organic Agriculture.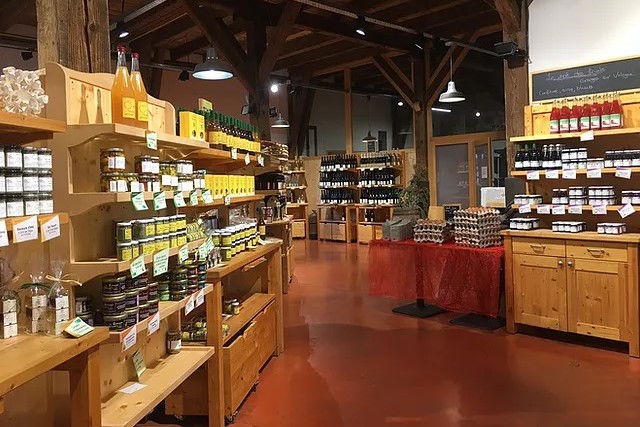 Saveurs et Couleurs de la Montagne
7 rue des Fabriques – 68470 FELLERING, FRANCE
+33 (0)3 89 39 14 43 | saveursetcouleurs68@orange.fr | https://www.saveursetcouleurs68.com/
---
On your next visit, don't hesitate to discover the different actors of the local distribution network of the Wesserling Park !