The Wesserling Park Textile Museum has been open since 1996. It is a former printing press building and occupies a key position in the landscape of the large park area. Today, it narrates, through a lively and artistic approach, the fabulous epic of this former "Royal Textile Factory" which has marked the history of the entire Saint-Amarin valley.
-Textile museum closed–
---
Permanent Exhibitions
► Textile History
Discover the history of the Wesserling Park from its creation to the present day. Imagine, through this permanent exhibition, the great site at certain times: 18th, 19th and 20th century.
► Costumed Demonstration
The Textile Museum comes alive to bring to life the crafts of the textile industry from the end of the 18th to the beginning of the 19th century: spinning, weaving, dyeing, drawing, engraving, board printing… A costumed guide takes you on a lively and authentic tour.
| | | |
| --- | --- | --- |
| | Wednesday, Saturday and Sunday | Monday, Tuesday, Thursday and Friday |
| Hours of the costumed demonstration | / | / |
---
Temporary Exhibitions


The Silk Road
Much as Marco Polo, set off on the Silk Roads, the trade routes that crisscrossed the East and the Middle East, and stop in a Central Asian caravansary…
Textile Discoveries
The textile language used, made of a combination of old and new techniques, will take you on a journey through a selection of 9 countries.
DMC – the art of yarn
Within this exhibition "all audiences and all ages", it is possible to see and experience the very numerous DMC yarns.
Jules Verne exhibition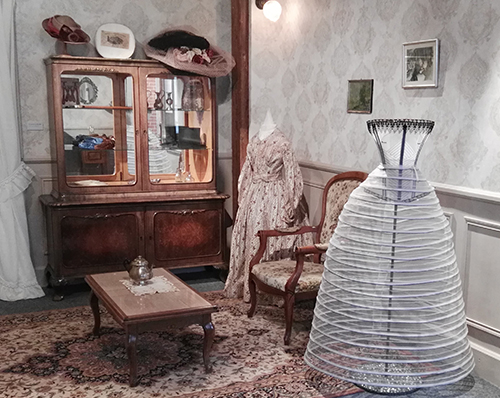 A maze-like, fun and educational journey through the fantastic world of Jules Verne.


---
Children's area
In the Textile Museum, there is an area entirely dedicated to children!
You will find giant board games, costumes, enigmas, anecdotes and many other surprises…
---
► The Belvedere
A unique view of the Wesserling Park can be found in the Textile Museum! Discover the textile city from ten metres high!